Prius Flat rate MFD Repair with 12 month warranty
Touchscreen repair Now we also repair cracked screens! through 2009 model year
Also Highlander and Landcruiser NEW information! we now repair "DEAD" screens!
ship to:
AutoBeYours
861 S. Gardner Scottsburg IN 47170
( Florida customers call for local repair options)
---
You are buying a service to repair your Prius MFD Touch Screen, you send us yours for repair. The cost is 325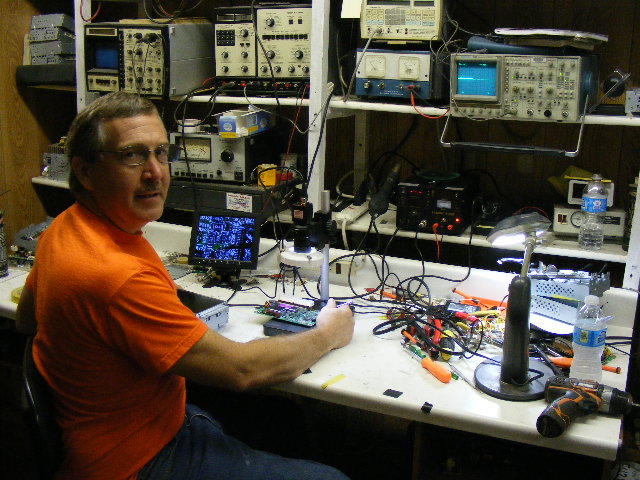 Please include your name and the symptom in the box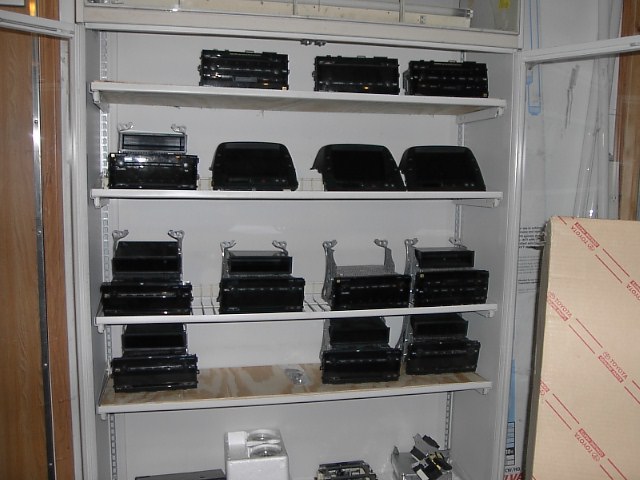 Send your Prius Touchscreen for repair.
We will fix it for 325 including shipping.
Please include your name ,email and the symptom in the box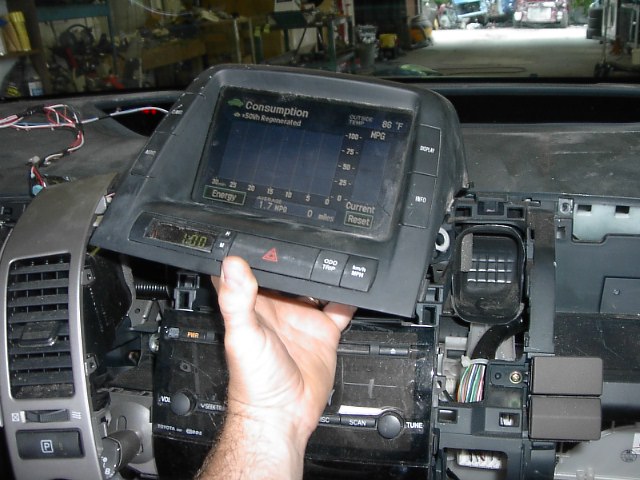 In a hurry? Ready to ship it now? click here for the condensed instructions
In a real big hurry? click here for 2 minute removal instructions
Does your display say something like " external device not connected"
or does it respond very slowly to button presses?
IT is DEAD or intermittant?
Does the touch screen not work? if yours is out of warranty, you need Our service.
for example if you press the glass and it does not respond correctly, then we call this a touchscreen failure
important! Remove any iPhone or Sat radio interface and test your MFD again before sending it for repair
also if your 12 volt battery is weak or failing, replace it before suspecting the MFD.
Please include your name and the symptom in the box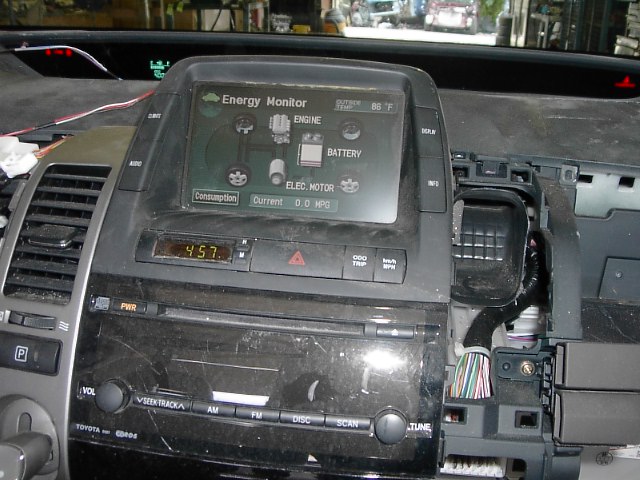 Removal instructions are as follows: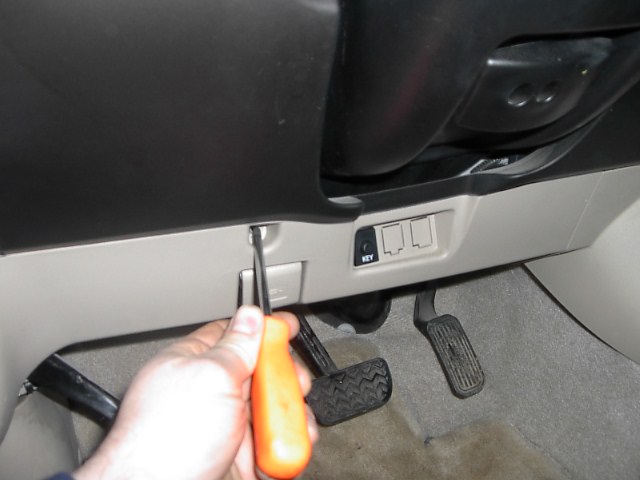 First remove this phillips screw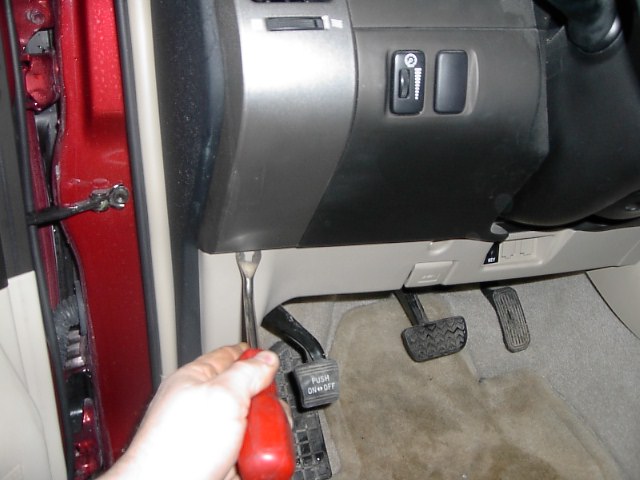 Then remove the left vent
( If you wrap your screwdriver with tape, it is less likely to scratch the plastic)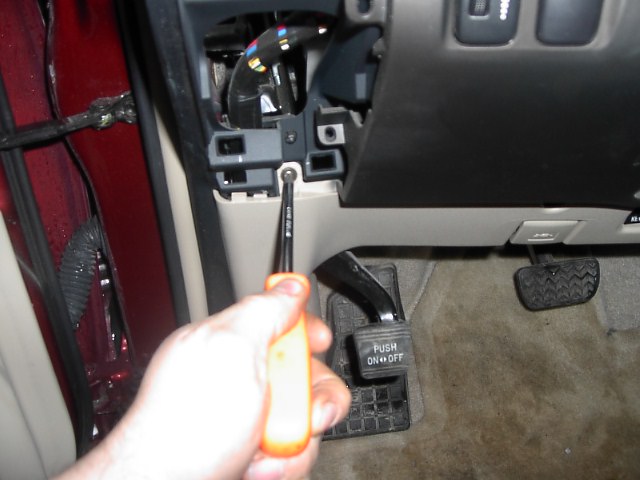 Then remove this screw, and pop the lower dash panel out towards the steering wheel.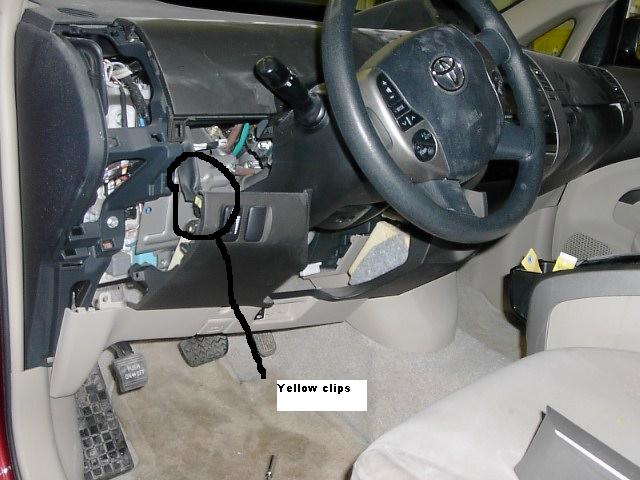 Observe the Yellow clips on the corners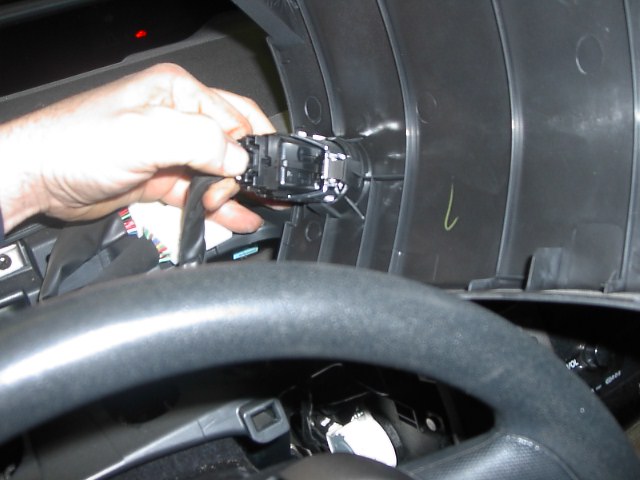 Pull the top dash panel off and unplug the power button like this.
( this will not harm your car or set trouble codes)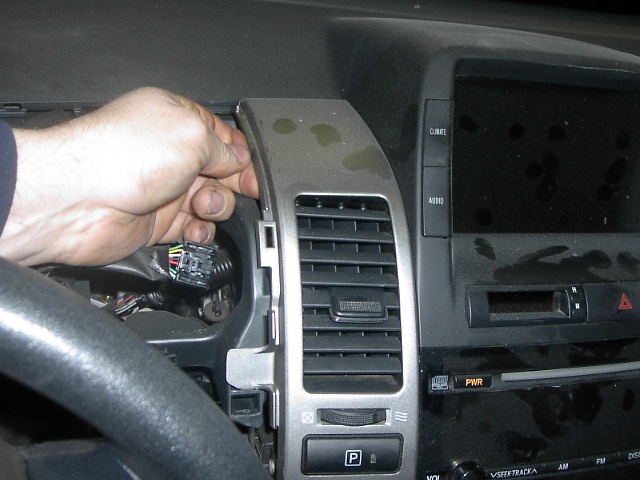 Remove the vent by pulling out like this.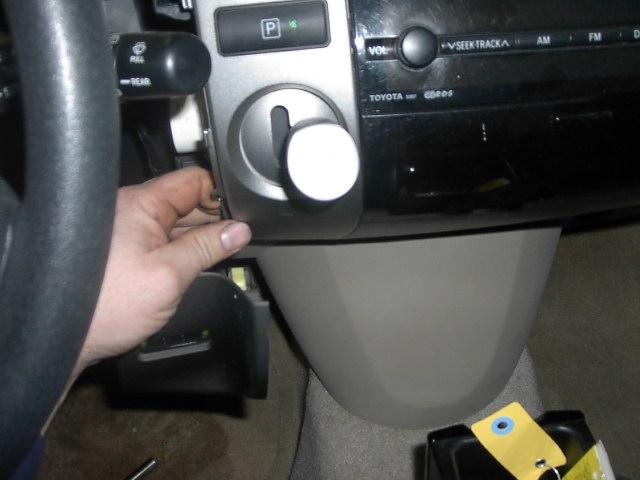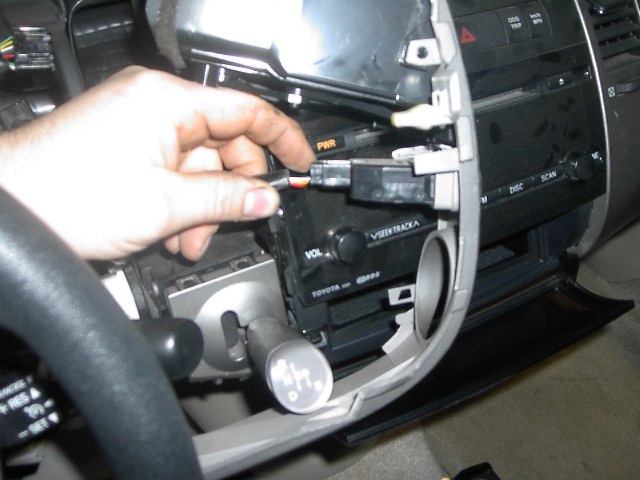 Unplug the Park switch like this.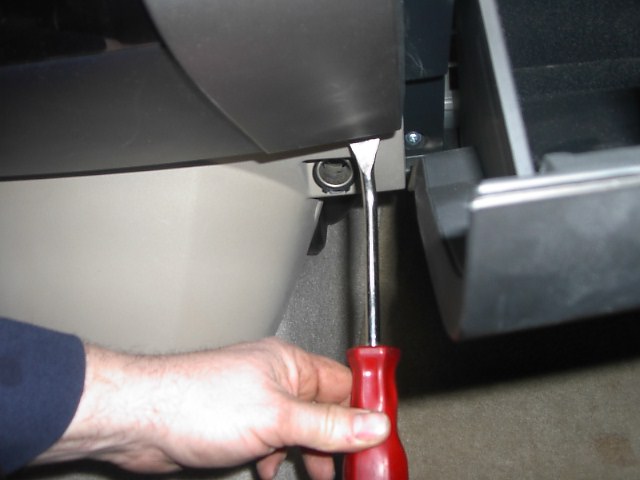 remove the vent to the right of the MFD also.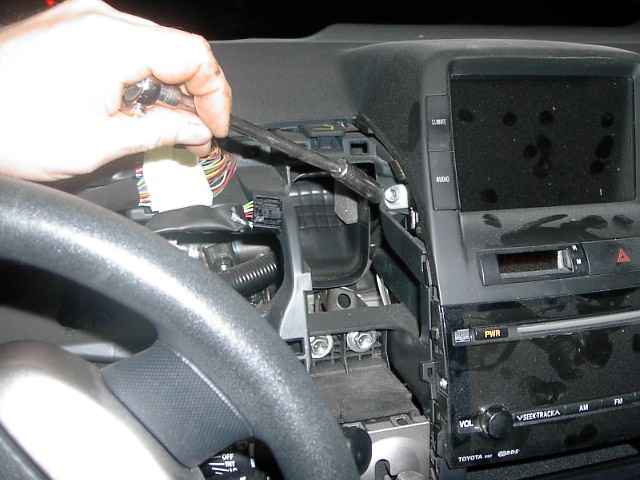 Now remove the two 10MM bolts that hold the MFD in place and pull it out firmly.
or you may watch this 2 minute video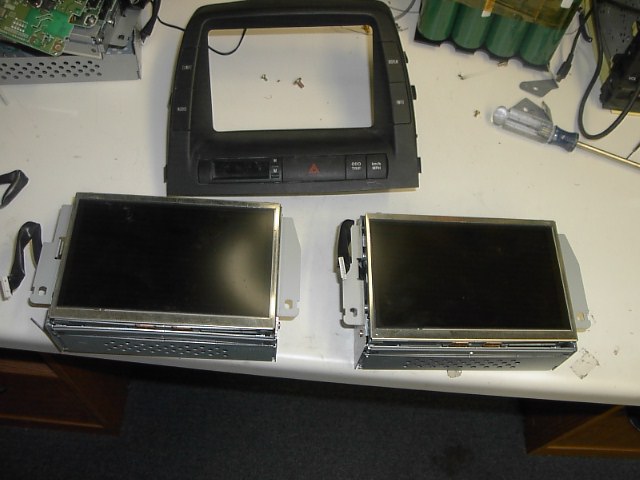 Please do not remove the black plastic bezel, we will do it here.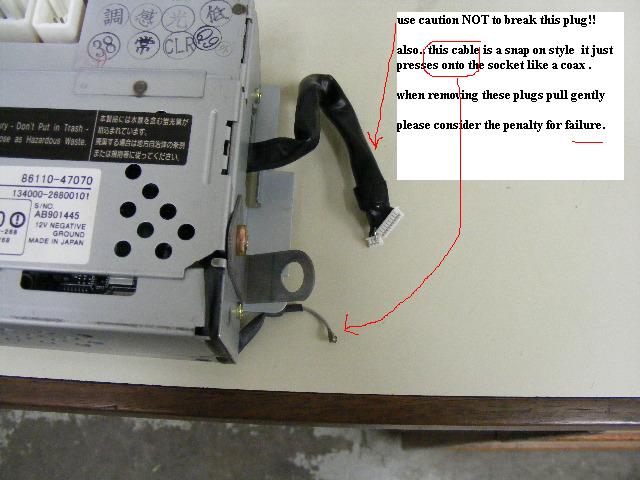 note.. Only BLUETOOTH screens will have the second smaller wire
and ship it to:
AutoBeYours.com
861 South Gardner St.
Scottsburg In 47170
812-752-5050
Important! We receive many units a month...
Be sure to include your name email address and shipping information, attached to the unit.
Please include your name email address and the symptom in the box.Newspaper is NOT a good choice for packing material
we accept credit cards by phone, paypal, and personal checks. we will send an invoice via email
new information!
New! We now repair broken glass...for the same price 325 dollars
make sure your mfd is packed well enough to be dropped from 4 feet.
I suggest double boxing.
MFD's arriving with hairline cracks cause extra work and can be prevented by careful packaging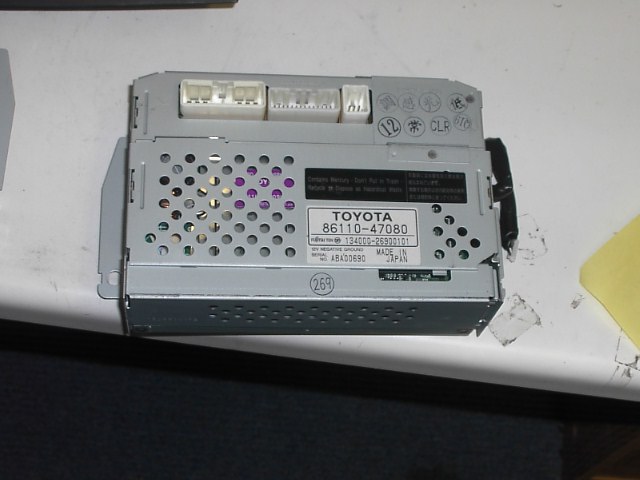 newspaper is NOT a good choice for packing material
Frequently Asked Questions:( FAQ's)
Can I still drive the car with the MFD removed?, .......Yes you may use the steering wheel controls for some fuctions.
Q? How long does the work take? ................1 to 5 days plus shipping
Q? Do you give a warranty?......................yes, 12 months. ( excluding cracked Glass caused by you)
Q? Do you accept paypal?
A. YES you will receive an invoice via email when the unit is ready to be returned to you. ( be sure to include your email address)
Q? Do you take master card?.................yes and Visa.. we will call you for payment when the unit is ready to be returned to you If Email does not work
Q? Do I need to call you before sending it? ......NO, .it is not necessary, but you may call if you like. 812-752-5050, remember we prefer to communicate via Email
Q?Do you know if there is a problem sending engine parts across the US/Canada border? ...................repair parts have not been a problem, you may pay a tarif.
the value is declared as 300 dollars. new information for Canadian customers click here
Q? I have resoldered my mfd and it still does not work, can you fix it?
A. NO, do not send an mfd here if there has been a failed attempt at repair.
Q? Do you resolder them?
A. We replace defective surface mounted Caps.
Q can you replace cracked glass from a suction cup being attached ?
A. YES! finally after two years of searching, We can now repair broken touch screens..hooray! see important photo below
Q? I just got my MFD back and it still does not work, what could be wrong?
A. unplug any foreign interface like a sat radio, or mp3 player jack. then try again. We test every MFD in a prius before returning them to you.
Important!
the most common reason for an MFD to fail to boot, is a low 12 volt battery.
if your 12 volt battery is 4 years old, then replace it
Q? are you repairing 2006 thru 2009 MFD's?
A. yes, if the screen is cracked or if it does not register a button press we can replace the glass and fix this issue.
( new info Feb 2015 , a dead 2006-2009 MFD can now be repaired, we found a solution to this common problem)
click here for new style dead mfd issues in this instance
Q? my buttons dont work, and you just fixed it... what could be wrong?
A. please adjust the distance between the glass and the bezel ( that is why we want the bezel included when you send it) it is possible the plastic is rubbing the edge of the glass causing a " phantom" button press
A. press the ribbon cable firmly into the socket ( this is for customers who removed the black bezel and are reassembling )
Q? I shipped it and have not heard anything for a few days, whats wrong?
A. We cannot contact you if you did not include your contact information ( email and/or phone,)
also, please give us a few days to perform the repair before calling. we prefer to communicate via EMAIL
Please note that new resistive touch panels are exact replacements
Q? how much to you pay for broken prius MFD?
A. 30 dollars delivered here
We want you to be happy with our service,
Thank you for looking and check out my feedback!
I will be happy to answer any questions.
Visit the "about me" page on ebay for more information about hybrids and AutoBeYours.com
this page was updated Dec 17 2015.
we work hard to save you money!
visit the "about me" page on ebay for more information